MetaLine Surface Protection
Elastomeric Repair Compounds; Not Rubber, Not Duplex Steel or Epoxy Ceramics, but a product that ingeniously combines the best of all three.
Sprayable, Elastometric Repair Systems Protection.
A huge range of applications and uses possible that are cost and time saving.
Protection against Wear, Erosion, Cavitation
Industries include Offshore, Shipbuilding, Mining, Construction, Civil Engineering. Made in Germany, used worldwide. G.O.S Pte. Ltd. is the Singapore and SE Asia Agent that carries stock in Singapore and has trained personnel.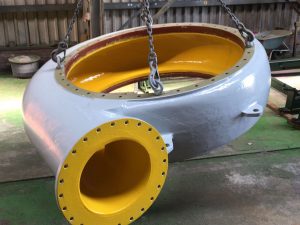 Contact us to learn more about how we can help you save time and money with this product.